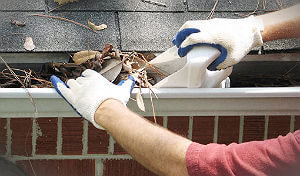 You feel like it's about time to give your gutter and downpipes a good clean? Don't undertake this task on your own! Without proper equipment and experience you might end up hurting yourself. You can take advantage of our company's professional gutter cleaning services, available to commercial and residential property owners, based in Hornsey and the neighbouring areas.
Our prices are exceptionally competitive and the service is carried out only by trained and skilled specialists, who have years of experience in this particular trade. They will clean your downpipes and gutters, using modern carbon-fibre poles and powerful vacuum machines.
Specialist Gutter Cleaning at Competitive Rates N8
The specialist gutter cleaning services we provide are in high demand throughout the entire Hornsey area and we have our seasoned staff and high-end equipment to thank for this success. When choosing us, you will benefit from:
Accurate quotes and keen rates
Our team's high degrees of proficiency and professionalism
Excellent customer service over the phone or on the web
Quality guarantee for our gutter cleaning jobs
Flexible and convenient working schedule
Our modern equipment
Special discounts for regular gutter maintenance
"I recommend this gutter cleaning service as efficient, professional and very prompt. They use modern machines and telescopic poles, provide pictures before and after the cleaning, so you can compare and evaluate the results, and also collect the debris when finished. They definitely give their customers very good value for money. – Agnes"
Every home owner should keep in mind gutter cleaning is a task that bears no delay. During spring and fall, gutters tend to accumulate a good amount of debris, mostly shed from the trees located in proximity to your property.
Affordable Gutter Cleaning Services Hornsey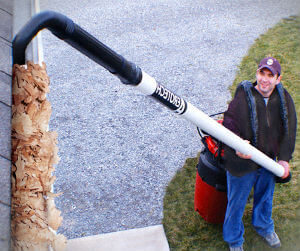 Your downpipes and gutters collect fallen leaves, twigs and other debris, which, when neglected, may result in serious and expensive damages like the flooding of basements, mould build-up inside your home, cracks in the pipes, and insect infestations, to mention a few. That is why you should consider taking advantage of our gutter cleaning services at least twice a year – in spring and fall. Or better yet, you can book us for regular gutter maintenance at discounted prices.
The service we offer is carried out by real professionals, who are fully-equipped with powerful vacuum machines with long carbon-fibre telescopic poles attached to them. These poles can reach a height of up to twelve metres, which enables us to clean your gutter without climbing on your roofs.
Moreover, as there is a camera on the pole, the specialists are enabled to look inside the gutter and evaluate the level of blockage there.
Leave your gutter cleaning to our Hornsey, N8-based company and we guarantee to get the job done to a professional standard and spare you the expenses in the future. Call us any day – we are always ready to help our customers!